Flow of services
JETRO IBSC is a one-stop center for establishing and expanding your business base in Japan.
JETRO IBSC are located in six major cities of Japan—Tokyo, Yokohama, Osaka, Nagoya, Kobe and Fukuoka. For overseas companies planning to set up a business base or foreign-affiliated companies looking to expand existing business base in Japan, experienced JETRO IBSC staff and specialists will provide various services free of charge. (Some services may cost extra.) Free temporary office space is also available for up to 50 business days.
* To be eligible to receive JETRO's services, terms and conditions may apply. Contact us for further information.

JETRO's support
Flow of JETRO IBSC services corresponding to the procedure for establishing a business in Japan
JETRO's services
The IBSC offers referrals to experts on company registration, visa applications, tax procedures, and labor procedures.
---
Help with procedural requirements for establishing a business base
The IBSC offers referrals to experts on company registration, visa applications, tax procedures, and labor procedures.

---
Information on regulations and relevant legal systems
Support with collecting information regarding procedures to obtain permits and licenses necessary for starting business in Japan.

---
Market and industry information
JETRO provides information on market and industry information along with market trends, data, and statistics necessary to expand your business in Japan.

---
Introducing service providers
JETRO introduces various service providers indispensable for your business such as recruitment agencies, accounting firms and banks.

---
Support for establishing a new business base or expanding your existing business base into other regions in Japan
IBSC offer a range of support and service tailored specifically to foreign firms already based in Japan and targeting expansion into Japan's local regions, including establishing new bases, increasing employment and branching out additional bases for production, logistics and R&D.
Support for Foreign Affiliated Companies on JETRO's website.

---
Facilities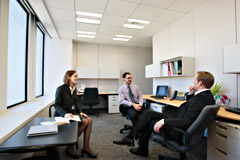 A free temporary office is available for your use.
Temporary office space for starting up or expanding operations is available free-of-charge for up to 50 business days at IBSCs located in Tokyo, Osaka, Kobe, Nagoya, Yokohama and Fukuoka. Private office space equipped with a telephone and Internet access, along with communal areas including conference rooms, are offered. IBSC temporary offices are located near major government offices and have convenient access to important business centers across Japan. Such proximity enables you to complete applications, registrations, business negotiations and other preparations to smoothly establish and expand your business.
Outline of temporary office (example of IBSC Tokyo)
Requirements:

Foreign or foreign-affiliated company considering to establish a business base or expand a business base in Japan.
* To be eligible to receive services, terms and conditions may apply.

Tenancy period:

Up to 50 business days in principle (The period can be extended as required, but a tenancy fee will be charged for the extended period)

Tenancy Fee:

Free (Security deposit and fees for communication expenses are required)

Equipment:

Desks and chairs, telephone and broadband connections

Communal areas:

Conference rooms, multipurpose hall

Floor areas of private office spaces:

13.5 square meters for a two-person office
18 square meters for a three-person office
36 square meters for six-person office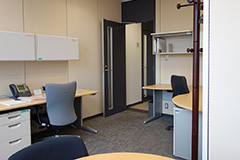 two-person office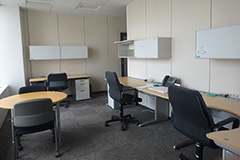 three-person office
for six-person office
---
Multipurpose hall and conference rooms
A multipurpose hall and conference rooms in the IBSC save you from renting outside facilities, allowing you to conduct business activities such as seminars, meetings, exhibitions and business talks all in one convenient location.
Eligibility:

Tenant companies of IBSC individual office space
* To use the hall, terms and conditions may apply.

Hall floor space:

131.2 square meters

Available seats:

About 42 (classroom-style room)
About 100 (theater-style room)
Available equipment:
26 tables (each large enough for two persons), 72 chairs, microphones, projectors, screens, podiums, white boards, garment racks, booths for simultaneous interpretation
* Lease of equipment for simultaneous interpretation is at the tenant's responsibility.
Conference rooms:

Equipped with projectors and white boards

Reception rooms:

Equipped with Blu-ray Disc and DVD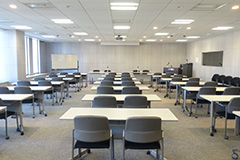 * The information above is as of IBSC Tokyo. Please refer to the following website for information on IBSCs in other regions.
How to apply for IBSC services
1.

Contact your nearest JETRO office (either in Japan or overseas) if your company is interested in establishing a business base or expanding your existing business base in Japan. We'll set up a time to meet to discuss specifically what JETRO can provide to proceed your business in Japan.

2.

JETRO asks you about your plans for establishing or expanding your business base in Japan, and what kind of support you would like from JETRO.
For example


You are currently considering establishing a business base in Japan and want to begin by collecting various information.
You want to convert your representative office in Japan into a branch office or a corporation to start sales activities.
To expand existing business in Japan you want to set up new business bases such as sales offices, warehouses or factories.
You want to establish a holding company or a subsidiary in order to diversify business.
You want to hire managers or a large number of employees as you are expanding operations in Japan.

* Firms that want to close an existing office to relocate to another area in Japan are not eligible.
* JETRO will not disclose any of our clients' information to third parties. For more information please see our privacy policy.

3.

Your application for the JETRO IBSC services is reviewed.
* To be eligible to receive JETRO's services, terms and conditions may apply. Contact us for more information.

4.

Upon confirmation that your company qualifies (Step 3), JETRO provides available services that match your needs.
Information service
---
Information on national, prefectural, and municipal incentives

---
Arranging meetings with government authorities and receiving requests for deregulation
The IBSC staff can help you efficiently gather information on laws, standards, regulations and authorization procedures and can arrange meetings with representatives from national and local authorities. The IBSC staff can assist you with submitting certain requests for deregulation to the relevant government bodies.
Invest Japan Hotline
Examples of requests which successfully led to deregulation

---
Tokyo One-Stop Business Establishment Center (TOSBEC)
TOSBEC has been jointly established by both the Japanese Government and the Tokyo Metropolitan Government on the same floor as JETRO IBSC. The center provides assistance with completing applications and other procedures required when starting a business, including those for company registration and notification of incorporation, taxes, social security, immigration, and Certification of Articles of Incorporation in one place.
Contact