Support for foreign-affiliated companies
Providing support at every stage of growth
We provide foreign-affiliated companies in Japan with services to help them further expand their business, including establishing new bases, increasing employment and branching out into any of Japan's local regions. We are happy to receive any inquiries. Don't hesitate to contact us if you are considering business expansion in Japan.
JETRO assist foreign-affiliated companies already operating in country to broaden their investments. We have more than 40 regional offices throughout Japan and we are ready to support your enterprise in expanding operations or establishing new locations anywhere in the country.
1. JETRO's services
---
Business information
Industry-specific overview of trends, key players, and related market data. We also conduct research tailored to individual requests.

---
Information on incentives
Provision of information on location-specific incentives, including capital expenditure grants, preferential tax treatment, employment-related subsidies, and other financial assistance. Arranging meetings with local government officials tasked with facilitating investment and study tours to relevant facilities.

---
Consultation with professionals involved in human resources, labor and tax
Introductions to in-network service providers with proven track records in providing advice in areas of expertise such as law, tax, accounting, social securities, etc.

---
Assistance with administrative procedures for licencing and approval
Arrangement of meetings with officials of regulatory agencies and prefectural/municipal governments over licensing and legal matters relevant to starting up your business, expansion, employment, obtaining visas and other related matters.

---
Consultation on regulatory reform
In order to facilitate development of your business, we provide the latest information on regulations made by the central government as well as local governments of each region. We will also relay any requests you might have for regulatory reform to the Japanese government.

---
Free temporary office space in six cities throughout Japan
Private, secure, and easy-to-use office space, conference facilities and on-site advisors at our business support centers in Tokyo, Yokohama, Nagoya, Osaka, Kobe, and Fukuoka.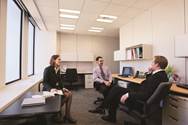 ---
Setting up a new base and selecting a location
Support for finding office/factory sites or locations for stores. Assistance in obtaining up-to-date real estate information and negotiation with real estate agencies.

---
Cooperation in PR activities
JETRO supports your company's PR activities throught our Invest Japan website and our mail magazine "Success in Region", featuring news of your new business, expansion and more. We also conduct joint press releases utilizing our network with mass media, including news papers and TV.
---
Matching with potential business partners
JETRO provides business networking opportunities for you to meet with potential partners.

---
Referral to reputable local service providers and support for recruitment
Introduction to local service providers and bilingual real estate agencies necessary for your business. Introduction to reputable human resource agencies in each local region and support for recruitment.

---
* Please contact JETRO for more information on our service.
2. Support by experts from various countries and regions
To remove language barriers and propel your business forward as efficiently as possible, JETRO has international staff on hand from the US, China, Taiwan, South Korea ,Singapore and India ready to support your company.
JETRO eases market entry and expansion for non-Japanese companies

(ACCJ Journal November 2018)
3.Success stories of businesses supported by JETRO
The following are examples of companies which successfully expanded in Japan with the support of JETRO.
Reference
Media coverage :
The article was originally published in the November 2018 issue of the ACCJ Journal.
Inside know-how : Local initiatives ease barriers for setting up shop in Japan

(1.6MB)