Industrial Tourism in Japan
Shiragiku shuzo
"Taiten Shiragiku" brand sake was founded in 1886. This brand is named after the "white chrysanthemum," considered to be the representative autumn flower of Japan. Shiragiku Shuzo Co., Ltd., is located in Nariwa Town in Okayama Prefecture. Nariwa is located in the mid-western district of Okayama Prefecture known as the "Kibi Plateau."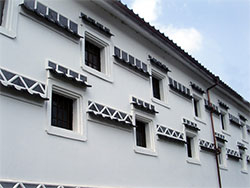 Access
Shiragiku shuzo Co., Ltd
163-1 Shimohina Nariwa-cho, takahashi-shi, Okayama-ken, Japan
By public transport:
15 min taxi from Bitchu-Takahashi station (approx. 50 min from Okayama station via Hakubi-Line)
Admission
Admission fee
Free
Working days and hours
Monday to Friday Between 8am and 4:45pm
(Irregular working hours on Saturdays)
Closings
Saturday, Sunday, public holidays, New Year's holiday, Obon holiday
Visitor capacity
1 to 20
Time required for a tour
1 hour - 1.5 hours
Language
Japanese only.
An interpretor must be arranged by the visitor for other languages.
Reservation
Required
Please send a request via e-mail. (Japanese or English only)
Note: E-mail response may take a few days for English translation.
Other conditions
The brewery visit is acceptable from December to March.
Prior reservation is necessary in order to coordinate the schedule and brewery-visit plan for each group.
Contact
Tel: 0866-42-3132
E-mail: shop@shiragiku.com