Industrial Tourism in Japan
Sapporo Beer Museum
The Sapporo Beer Museum was established in 1987 and renewed in 2004. It is the only beer museum in Japan. It shows the history of Sapporo Beer and its business activities.
Access
Sapporo Beer Museum (Sapporo Breweries Ltd.)
East 9 North 7, Higashi-ku, Sapporo, Hokkaido, 065-8633 Japan
About a 10 minute walk from Higashi-Kuyakusho-Mae station of the Toho Line (subway)
Public bus service is available from Sapporo Station and near Odori Station.
Admission
Admission fee
Free
Working days and hours
10:30am - 6:30pm (last entry 6:00pm)
Closings
Every Monday. End of year and New Year's holidays
Visitor capacity
One visitor is acceptable for a non-guided tour. More than two for a guided tour. The maximum number for a guided tour at one time is 40.
Time required for a tour
30 min
Language
Tours available in Japanese only
Reservation
Required
Required for 10 and more visitors
Please call 81-11-748-1876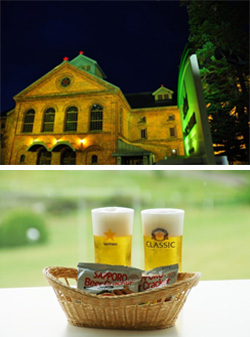 Contact