Industrial Tourism in Japan
Otafuku Sauce
A healthy body leads to a healthy heart and mind. By choosing only ingredients of the best quality, we can contribute to the physical and mental well being of our customers. This principal is reflected in everything we do because we understand that in order to give back to the community and make a brighter world, we must first start with the individuals.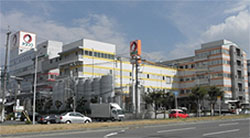 Access
Otafuku Sauce Co.,Ltd
7-4-27 Shoko Center, Nishi-ku, Hiroshima 733-8670 Japan
*About a 25-minute walk (about 5 minutes by taxi, about 8 minutes in Hiroshima bus) from JR station Shin'inokuchi
*About a 10-minute walk from the station Inokuchi Hiroden(Tram)
Admission
Admission fee
Free (Only Factry and Wood egg tour)
Working days and hours
Monday to Friday between 9am and 5pm
Closings
Saturday, Sunday, public holidays and New Year vacation, summer vacation.
Visitor capacity
1 to 15
Time required for a tour
2 hour
Language
Japanese only
Reservation
Required
Please e-mail to woodegg@otafuku.co.jp
Other conditions
An interpreter must be arranged by the visitor.
Guide tour is available.
6 years of age or older
Photography and video taking are allowed in limited areas.
Contact
Tel: 082-277-7168(Overseas Sales Department)
E-mail: yakao@otafuku.co.jp