Industrial Tourism in Japan
Featured reports
Making Things:From mills to motorcars: Toyota through the ages
The Toyota car is famous the world over, this giant of a company began in the weaving machinery industry. Founder Sakichi Toyoda was an inventor who brought domestically made power looms and automatization to Japan. From automatic looms to automobiles and beyond, the company has been committed to the notion of being "studious and creative" for more than 100 years.
Nagoya's prominence as a port city and one of the country's biggest population centers makes it a logical choice for Toyota. The Toyota Commemorative Museum of Industry and Technology is situated at the site of its original factory established to develop automatic looms. The red brick factory, called the Toyoda Automatic Weaving Factory, now houses thousands of items showing the history of the company, its move from hand-operated assembly lines to automatization-and from there to becoming one of the most important and largest auto manufacturers in the world.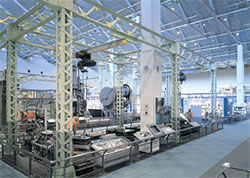 In the Textile Machinery Pavilion there are many artifacts from the long history of Toyota's technology-including some looms invented by Sakichi Toyoda before the establishment of Toyoda Automatic Loom Works-like the 1890 wooden hand loom and the 1924 Type G automatic loom. While watching demonstrations, visitors can experience the sights and sounds of mill work as it was performed a century ago. The development of technology used in making automatic looms, essential to the modernization of the textile industry in Japan, was later helpful in the making of automobiles.
During the 1920s, Japan set its sights on domestic automobile production. Though the country was inexperienced with auto manufacturing, the company's experience with textile machinery and automation meant they were well placed to move into the auto business. In 1937, the Toyota Motor Corporation was born.
In the Automobile Pavilion, visitors can see models of the first autos produced by Toyota, such as the Model AA, the first passenger car made in 1936, and the G1, the first truck. Prototypes and subsequent versions and the progression of designs through the years are on view in the spacious showroom.
Children will enjoy Technoland and the colorful interactive displays designed to invite them into the world of textiles and automobiles. Here kids can explore principles of science while driving and manipulating the weaving and the exhibits. A toddler area is also available.
Before exiting the museum, visitors can peek at the latest innovation: the Prius Plug-in Hybrid Vehicle. For further viewing, Toyota enthusiasts may also want to check out the Toyota Automobile Museum in the eastern suburb of Nagakute, just around ten miles outside of Nagoya's city center. All feature classic examples of just how Toyota is "making things."