Industrial Tourism in Japan
Asahi Seika
Asahi Seika Co. Ltd., is located in Yanai City, Yamaguchi Pref. We produce various confectionary goods using fresh and delicious water and aspire to provide products which incorporate our dreams and joy to our customers. If you are traveling to Yamaguch, please feel free to visit our factory.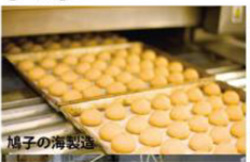 Access
Asahi Seika Co. Ltd.,
5275 Yanai, Yanai City,Yamaguchi 741-0021, Japan
Please refer to the map: http://www.kasinoki.co.jp/basara/01t.htm

Admission
Admission fee
Free
Working days and hours
9:00am - 4:00pm
Closings
Saturday, Sunday, public holidays
Visitor capacity
1 to 40
Time required for a tour
15 min.
Language
Japanese, English
Reservation
Required
Please e-mail us at info@kasinoki.co.jp, or call us at 0820-22-0757.
Contact
Tel: 0820-22-0757
E-mail: info@kasinoki.co.jp