Companies Interested in Highly-Skilled Foreign Professionals

Pharmacrea Kobe Co. Ltd.

Deliver products made from R&D to the world as an ambassador
We are a bio startup launched from a university and conduct R&D, manufacturing, and sales with "making people around the world healthy" as our motto. We seek ambassadors for our great skincare/oral care products who will deliver them to those in need around the world. We succeeded in commercializing creams and toothpaste containing shikonin from our extensive research.
Shikonin is a medical compound found in the roots of Lithospermum erythrorhizon, which has been used in Japan as a medical herb and dye since ancient times, and has anti-inflammatory effects and promotes wound healing. Applied research is being done on leukemia and breast cancer. We developed a method to extract and stabilize high grade shikonin, which is unstable and insoluble.
As an ambassador, you will learn the products that combine the power of nature with tech and acquire users by promoting them.
Each country has many people with concerns. Join us to use your promotion powers to exhibit value in intervening.
Role Expected of Highly-Skilled Foreign Professionals
Bridge Builder with Foreign Enterprises, such as in Expanding Overseas (Bridging Resource)
Management of Overseas Bases
Humanities (Sales/Marketing)
Sectors
Food & Beverage
Medical Supplies and Cosmetics
Business Content
We conduct industry-academia collaboration by collaborating with doctors, veterinarians, and pharmacists who have knowledge in clinical practice, and scholars engaged in research in the medical, veterinary, pharmaceutical, and agricultural fields, as well as by constructing networks with companies that commercialize and sell products. Our technical prowess has allowed us to develop skincare and oral care products that contain elements that were considered difficult to commercialize. We now sell products like Pharma S1 Cream, S-AP Toothpaste, and Shikonin Cream for Animals that contain shikonin, a compound found in the roots of Lithospermum erythrorhizon. Our products, while cosmetic, have medically proven effects and are sold in hospitals and clinics. In addition to product development, we plan commercialization, match companies, and provide consulting on development for great ideas that have yet to leave the lab.
Countries/Areas of Interest
Asia as a whole
Oseania as a whole
North America as a whole
Central and South America as a whole
Europe as a whole
See more details
Go to the web site of Pharmacrea Kobe Co. Ltd.

Contact
Inquiry Form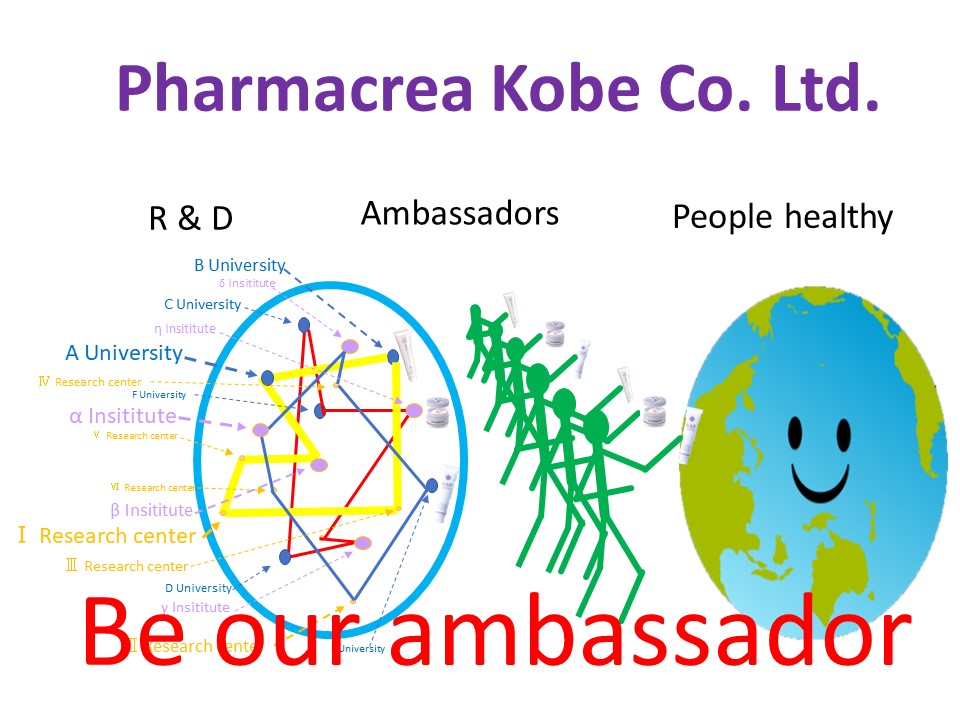 Address
4-2-18-803 Hachiman-dori Cyuo-ku Kobe Hyogo 651-0085
Tel : 078-200-2901
Company Info
Capital:12.45 million yen
Amount of sales:40.14 million yen
Number of employees:2 people
Year of establishment:July 2011
http://www.pharmacrea.com/