Companies Interested in Highly-Skilled Foreign Professionals

Matsunaga corporation

Engineer/robot operator of coating in Japanese auto parts industry
Recruitment of engineers / robot operators and quality control manager candidates at coating plant for Japanese automobile parts (back mirrors, headlamps). Our industry faces a period change of once in 100 years with CASE as a keyword. Gain experience in the Japanese automobile industry that leads the world. Coating is a very rare field. You will learn the characteristics of the basic paint, and then you will acquire the skills of the robot operator. Management is important for making good products. Considering various factors such as temperature, humidity, robot teaching (movement), and air balance. The optimum conditions for the best product for the day must be found. In quality management, we are striving to strengthen our management system from the viewpoint of quality assurance for our customers under the slogan "Do not make defects and do not flow". You will learn inspection first, and then the management method.
Role Expected of Highly-Skilled Foreign Professionals
Management or Research & Development for Domestic Business Using Specific Professional Knowledge
Sectors
Motor Vehicles/Motor Vehicles Parts/Miscellaneous Transportation Equipment
Business Content
Painting business for automotive parts (back mirrors, headlamps). We Paint parts to match the car body color by using 4 robots to paint parts flowing on the conveyor. To make a good product, various factors such as temperature, humidity and robot teaching are involved. The feature of our company is the rotation painting using non-electrostatic bell gun. Bellgun control includes robot movement, workpiece rotation control and gun distance. These advanced collaborations enable multiple coatings of thin films. Depending on the grade of the car, it corresponds to quality grades such as 1 coat and 2 coats. A wide range of products can be ordered from popular cars to luxury cars.
Countries/Areas of Interest
See more details
Go to the web site of Matsunaga corporation

Contact
Inquiry Form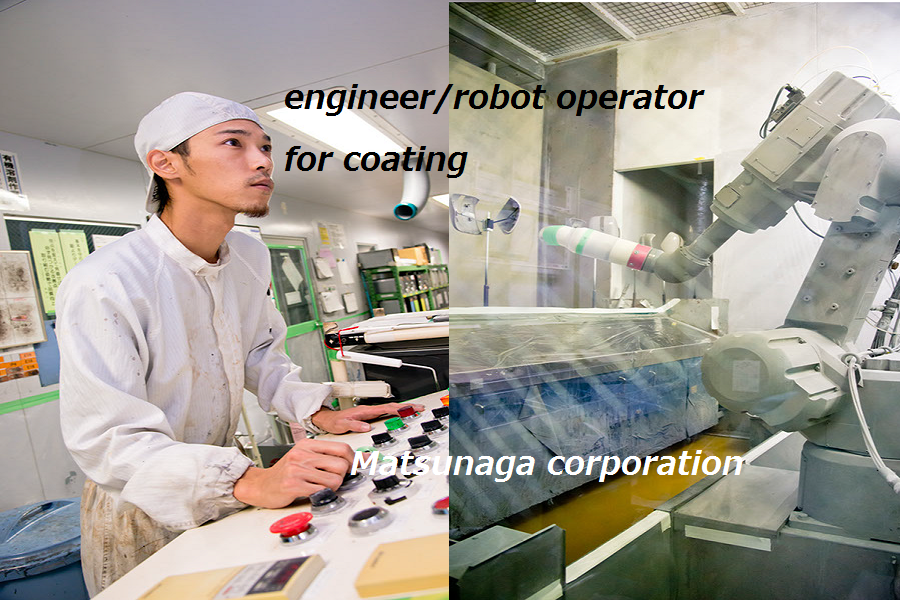 Address
tegoshihara 170-1 suruga-ku,shizuoka Shizuoka 421-0131
Tel : 054-256-0022
Company Info
Capital:10 million yen
Amount of sales:19.16 million yen
Number of employees:59 people
Year of establishment:April 1960
http://www.matsunagashoten.co.jp