Companies Interested in Highly-Skilled Foreign Professionals

Medical Corporation Sendan-kai

Seeking human resources who can support our medical corporation!
We are a medical corporation based in Kobe city providing medical and nursing service for the elderly. Japan's super-aging society requires various medical and nursing services, from medical treatments to home care, from the nursing and prevention stage to the final stage of life, offered in a manner respecting people's wishes. Our mission is to always be the center of the community-based integrated care system.
With a view to grow more as a medical corporation and offer broad healthcare service regardless of geographical or business boundaries, we wish to recruit those with high potential and specialist knowledge on finance, human resources, and business strategy.
One of our fundamental principles is to "respect staff". High satisfaction among staff is the basis of providing good quality service. Accordingly, in addition to various allowances, we provide a subsidy for school fees to support individual career progress. We welcome all who wish to use this scheme and develop as staff.
Only English
Language
Skills Required
Yes
Role Expected of Highly-Skilled Foreign Professionals
Bridge Builder with Foreign Enterprises, such as in Expanding Overseas (Bridging Resource)
Participation in Management
Humanities (Sales/Marketing)
Humanities (Management)
Sectors
Professional Service
Miscellaneous Non-Manufacturing Sector
Business Content
As the center of Kobe city's community-based integrated care system, we operate a wide range of nursing services such as nursing homes, day care facilities, and home-visit care in addition to medical service.
Specifically, we run a clinic as a part of medical service, long-term care health facilities (100 facilities) and senior residences offering services (36 rooms) as a part of nursing home service, day care facilities and day care rehabilitation centers as a part of day care service, and home-visit nursing and home-visit care as a part of home-visit care service.
In the next fiscal year, we are also scheduled to open multiple combined facilities (including a senior's residence offering services, multifunctional long-term care in a small group home, and a group home for dementia patients). Corporate revenue is expected to grow from 0.9 billion yen (FY2018) to 1.3 billion yen (FY2023)
Countries/Areas of Interest
ASEAN
Oceania as a whole
Europe as a whole
Contact
Inquiries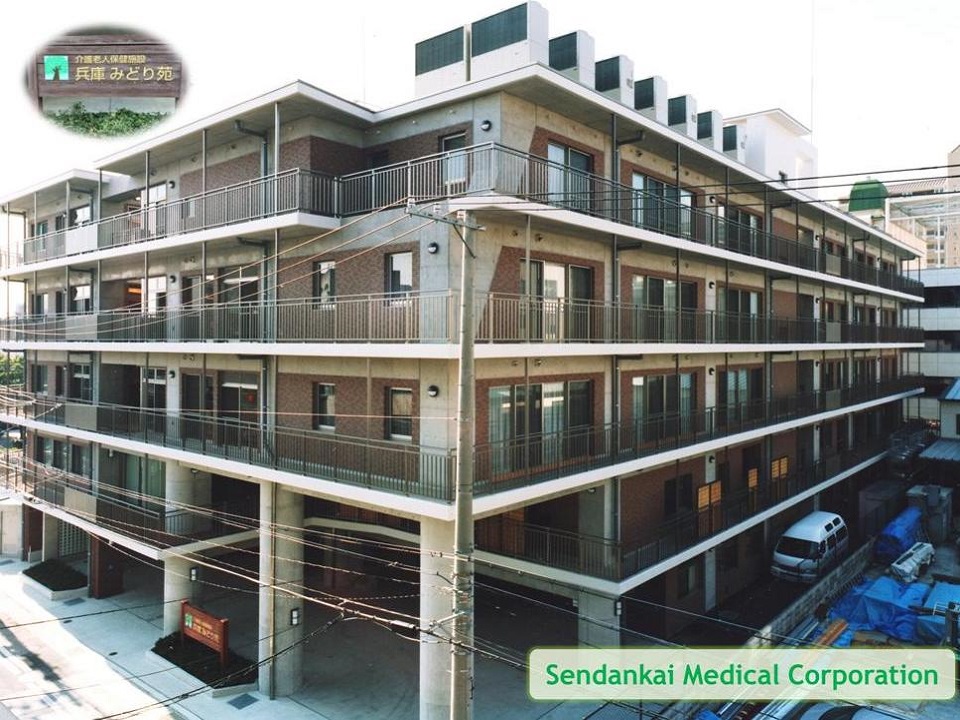 Address
2-2-1 Daikaidori Hyogo-ku, Kobe-shi Hyogo 652-0803
Tel : 078-575-2120
Company Info
Capital:64 million yen
Amount of sales:888.59 million yen
Number of employees:120 people
Year of establishment:April 2002