Industrial Tourism in Japan
Tonami Sankyo Village Museum
Located in the Tonami Plains, Sankyo Village is among Japan's best known rice-growing villages, dotted with rice fields and surrounded with trees. This museum was built with the intention of helping to preserve Sankyo Village's scenery, and to help share the region's traditional culture with the rest of the country. The museum consists of four buildings: the Information Center, where visitors can learn about Sankyo Village; the Heritage Center, where people work to restore the traditional architecture of the Tonami region; the Community Center, rebuilt as a three-generation house in the Tonami region's traditional style; and the Everyday Items Center, where visitors can experience the wisdom and cleverness of our ancestors.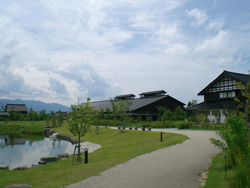 Access
Tonami Sankyo Village Museum
80 Taromaru, Tonami city, Toyama 939-1362 Japan
By car: 5 minutes from Hokuriku Expressway Tonami I.C.
Admission
Admission fee
Admission fee (100 yen) is required to enter the Mingu Museum (the other 3 museums are free of charge)
Working days and hours
Working hours: 9:00 am - 9:00 pm
Admission ends 5:30 pm at the Mingu museum (closed at 6:00 pm.)
Closings
Every Wednesday, the third Thursday (except on national holidays), from December 29 to January 3.
Visitor capacity
-
Time required for a tour
Language
Japanese
English, Korean (pamphlet only)
Reservation
Required
Tel: 0763-34-7180
E-mail: museum@city.tonami.lg.jp
Fax: 0763-34-7182
Other conditions
Arrangements for an interpreter must be made by the visitor.
Completely barrier-free facility at the Information Museum and Mingu Museum.

Contact
Tel: +81-763-34-7180
Fax: +81-763-34-7182