Industrial Tourism in Japan
Akita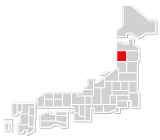 Akita makes up the northern part of mainland Japan by the Sea of Japan and is known for its heavy snowfall. It is known for rice production, with a brand of rice named after the prefecture: "Akitakomachi". A traditional food made from mashed rice formed into cylinders around wooden sticks, called kiritanpo, is an ingredient in the traditional hot pot dish of the region, along with a premium breed of chicken known as Hinai chicken. Akita is blessed with dense forests that provide wood for a diverse range of traditional crafts, including a high-quality and lightweight woodcraft called Odate Magewappa, which is a steam bending woodcraft, and cherry bark craftwork in which Japanese cherry bark is used to bring out unique textures in the products. Akita silver filigree is another traditional craft that has been passed down through generations and involves forming pure silver wires into ornaments. There are two airports and the Tohoku Expressway running through the region, making it a good location for the conglomeration of companies in the electronic components industry.
AKITA SEISHU
Located towards the northern end of Japan's main island of Honshu is the mountainous prefecture of Akita, with its cold winters and heavy snowfall. The fresh ...
Location: Daisen-City, Akita

Language: Japanese, English
SATO YOSUKE
"INANIWA-UDON" is handmade dried noodles, and one of the three major UDON in Japan. It's been 153 years this year since the establishment of Sato ...
Location: Yuzawa-City, Akita

Language: Japanese only
TAKAMO & Corp. Yamamo Miso and Soy Sauce Brewing Company
Yamamo is located in the southern part of Akita Prefecture. The Kurikoma mountain streams still flowing into Minase River bless us with clean, clear water. ...
Location: Chitose-city, Hokkaido

Language: Guided Tours: Japanese
Aomori
Aomori is on the northern tip of mainland Japan and has a cool climate. It is the top producer of apples in Japan – saying that your apples are from Aomori creates a powerful brand identity in Japan. With the scallop farming and flounder fishing that is prevalent in Mutsu Bay, fisheries are also thriving. Tsugaru lacquer, which has been around since the 1640s, is an officially designated traditional Japanese craft. Aomori is also home to a diverse genre of crafts, such as Tsugaru Vidro – made with traditional glass-blowing techniques – and linen cross-stitched with cotton threads. It has a unique manufacturing culture which extends to electric component production, giving form to many small and medium enterprises in the prefecture. One of the three largest festivals in the Tohoku region, the Nebuta Festival, takes place during the summer and attracts many tourists that come to see the floats carrying brilliant statues.
A-Factory
At A-FACTORY you can enjoy apple cider made from Aomori apples and tons of local fresh groceries at Food Marce. You can also taste and enjoy delicious dishes ...
Location: Aomori-City, Aomori

Language: Japanese
Aomori Prefecture Tourist Center
The Aspam building is a tourism products center in the shape of a triangle, has 15 floors, and is 76 meters in height. From the 360 degree observation deck, ...
Location: Aomori-City, Aomori

Language: Japanese
Kanesho
We produce vinegar, soy sauce, miso paste, sauce (including for noodles) and healthy food.
Location: Hirakawa-City, Aomori

Language: Japanese
Fukushima
The climate varies between the three areas defined by the Aizu, Nakadori, and Hamadori mountains. Located in the west, Aizu is known for its heavy snowfall. Fukushima is a popular producer of peaches in Japan and an active producer of original buckwheat varieties. It is also known for producing high-quality sake, having received the most gold awards for six years in a row at sake competitions as of 2017. Aizu lacquer is a popular traditional craft from Fukushima, where gold patterns stand out over the colorful lacquer paint. Said to have begun around the 9th century, the red cow figurine called Aka Beko – based on the legend of a red cow that eliminated the plague – is believed to ward off evil. Beko means cow in the Fukushima dialect. Fukushima is also an active producer of ornamental freshwater fish, called koi.
Fukushima Brewery (Asahi Group Holdings)
Asahi Beer's Fukushima Brewery holds six plant tours each day and receives approximately 50,000 visitors each year. Brewery tours include the ability to see the...
Location: Motomiya-City, Fukushima

Language: Japanese, English, Chinese, Korean (pamphlet only)
Kaeigura
Founded during Kaei year 3 in the Edo Period (1850).
Since that time
At Kaeigura, which has continued to brew Japanese sake for over 160 years, you ca...
Location: Aizu Wakamatsu-City, Fukushima

Language: Japanese, English (pamphlet only)
Licca Castle
Licca-chan Castle opened on May 3, 1993, to commemorate Licca-chan's 25th birthday anniversary. It was established in Ono, Fukushima as the first integrated production factory for dolls in Japan. ...
Location: Tamura-gun, Fukushima

Language: Japanese
Nissan Motor Iwaki Plant
This plant, which began operation in January 1994, is a facility that has introduced the latest equipment and produces the latest fuel-efficient, low weight, an...
Location: Iwaki-City, Fukushima

Language: Japanese only
Unreian
Our brewery was founded in 1918. We create sake prepared with underground water from Iidesan (Mt. Iide), within what is referred to as the Tohoku Alps, by inclu...
Location: Kitakata-City, Fukushima

Language: Japanese only
Iwate
90% of Iwate is agricultural land and forests. It has a cool climate, dense forests, and a long coastline, and Iwate's economy relies on agriculture, forestry, and fisheries to this day. Iwate has kept the tradition of free-driving fisherwomen known as ama, who catch abalone and sea urchins, and it became the filming location of the TV series Ama-chan, in which the heroine aspires to become an ama. Koiwai Farm is a famous sightseeing spot and had the third highest number of dairy cows in Japan in 2015. Iwate raises Maesawa cattle, a premium Japanese breed of beef cattle. It is where Buddhism flourished and the Chuson-ji Temple and other cultural heritage sites in Hiraizumi, which were built in 1124, are registered world heritage sites. Chuson-ji is also known for its gold-plated hall, called Konjikido. Cast ironware that has been around since the 17th century, called Nambu tetsubin, is also very popular.
Asabiraki
Iwate Prefecture is well known as the birthplace of original Nanbu toji. Since the mid-1800s, we have carefully brewed sake in a town blessed with pure water ...
Location: Morioka-City, Iwate

Language: Japanese only
IWACHU Casting Works
This is a theme-park style factory where you can see the production process of Nanbu cast ironware. There are facilities such as an exhibition gallery...
Location: Morioka-city, Iwate

Language: Japanese only
Kuji Amber Museum
The Kuji Amber Museum is the only amber museum in Japan. In the Main Wing, amber of Kuji and of the world are explored from two angles: natural science ...
Location: Kuji-city, Iwate

Language: Japanese only
Morioka Handi-Works Square
This is a facility where you can "see, touch, and create" various traditional craftworks and foods of Morioka. There are 2 main areas: the Workshop Area...
Location: Morioka-city, Iwate

Language: Japanese only
OIGEN SHOWROOM(SHOP)
Nambu cast ironware is one of the Japanese traditional crafts. There are many Nanbu cast ironware products. Many are kitchen items...
Location: Oshu-city, Iwate

Language: Japanese only
SUZUKI MORIHISA STUDIO LTD.
Location:Morioka,Iwate

Language: Japanese
TM Planet Co.,Ltd
I Joboji lacquer has a very high quality and is said to be "this is this lacquer." But there were times when it was unsold. ...
Location : Morioka, Iwate
Language : Japanese
Miyagi
Home to the prefectural government office, Sendai is one of the primary cities in Japan and is the center of Tohoku. Miyagi produced a great warlord called Masamune Date in the 16th century, during the warring period of Japan. To this day, his statue is cherished as the symbol of Miyagi. Zunda is a soybean paste with a unique flavor, often used in rice cake confections. It is said to have been created when Masamune ate his soybeans after mashing them with his sword. Miyagi is also known for fish paste shaped like bamboo leaves – called sasa kamaboko – and grilled beef tongue. Just offshore of Miyagi is where Kuroshio (a warm current) and Oyashio (a cold current) meet. This spot is also known as one of the three largest fishing sites in the world, making Miyagi a prominent producer among fisheries. It is also a large seafood producer, ranking at the top nationally for flounder and shark, and second for tuna and farmed oysters in 2015.
Azoth
This is a factory for primarily printing T-shirts. We also design and screen them ourselves. We have both water and oil-base printing equipment, large washing ...
Location: Sendai-City, Miyagi

Language: Japanese only
Ganguan Kokeshiya
Our company manufactures and sells wooden toys mainly like Sendai-style traditional kokeshi (wooden dolls).
These are popular products in a bold two-color ...
Location: Sendai-City, Miyagi

Language: Japanese only
Ichinokura
Ichinokura established in 1973 combined with 4 sake breweries in Miyagi. Our basic point is to continue to honestly make good quality products with care and ...
Location: Osaki-city, Miyagi

Language: Japanese or English at a tour.
Izunuma Farms (Izunuma Foods)
[Company profile]
Based on the concept of changing "agriculture" into "food culture", we began producing ham and sausages in ...
Location: Tome-City, Miyagi

Language: Japanese only
KIRIN Sendai Factory
We started to make beer in Odawara Sendai in 1923 and moved to Minato Miyagino Sendai in 1983.
We've made beer for more than 90 years beloved by the people...
Location: Sendai-City, Miyagi

Language: Japanese only
(There are English, Chinese, Korean pamphlets.)
NIKKA WHISKY Miyagikyo Distilleries
In the hopes of introducing more people to the wonders of whisky, Miyagikyo Distillery offers tours of its facility to interested members of the public. We are ...
Location: Sendai-City, Miyagi

Language: English, Chinese, Korean( pamphlet)
Takeda no Sasakamaboko
Our company is a long standing shop, more than 80 years old. Bamboo leaf fish cake is made of walleye Pollack of the best rank and carefully screened by the tra...
Location: Shiogama-City, Miyagi

Language: Japanese only
Tohoku Kogei
During tours we first show a Japanese video about our process flow while serving tea and Japanese sweets. After that, we explain about our products in our shop ...
Location: Senda-City, Miyagi

Language: Japanese only
Yamagata
Yamagata has abundant nature, including natural Japanese beech forests and the Mogami River, which flows down the middle of the prefecture and is adored, even appearing in a popular haiku. Its sake industry takes advantage of the high-quality water resources and is known for its excellent quality, being the first to adopt the Japan Geographical Indication system. Yamagata was Japan's top producer of cherries and pears in 2017, and the Yamagata-based cherry brand, Sato Nishiki, is especially popular around the world. The beef from the Japanese Black cattle, raised in southern Yamagata, is known as Yonezawa beef. Yamagata has an active electronics industry shipping many high-quality components, including those for computers and automobiles. The Port of Sakata is located where the Mogami River flows into the Sea of Japan. Yamagata is taking various globalization measures, such as opening sailing routes to Korea and China.