Industrial Tourism in Japan
Suntory Minami Alps Hakushu Water Plant
The source of natural mineral water is surrounded by natural beauty.
Forestland in the Southern Alps provides fresh water, the "Suntory Natural Mineral Water of the Minami Alps".
During guided tours, the production line is visible through windows.
*The production line will not always be in operation. Once the guided tour is over, you'll be able to sample fresh and cold natural mineral water.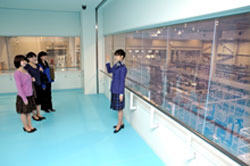 Access
Suntory Minami Alps Hakushu Water Plant
2913-1 Torihara, Hakushu-cho, Hokuto-shi, Yamanashi
[By train]
The distillery is located about 10 minutes by car from Kobuchizawa Station on the JR Chuo Main Line.
[By car]
The distillery is located 15 minutes by car from the Kobuchizawa Interchange on the Chuo Expressway.
Parking capacity: 200 passenger cars (Large buses can also be accommodated.)
[By bus]
- From Nirasaki to Hakushu Distillery
No. 3 boarding area at Nirasaki Station → Matsubarakami (the closest bus stop to the distillery)
- From Hakushu Distillery to Nirasaki
Matsubarakami (the closest bus stop to the distillery) → Nirasaki Station
*For departure times, fares, and other information, please contact the Yamako Town Coach Nirasaki Sales Office by phone on +81-551-22-2511.
Admission
Admission fee
Free
Working days and hours
9:30 am to 4:30 pm (except during plant shutdowns)
Closings
Over the New Year's holiday and during plant shutdowns
(some of which are not scheduled in advance)
Visitor capacity
2 to 50 people
*Tours are given as long as there are at least two visitors in each group.
Time required for a tour
9:50 am to 2:50 pm (last tour leaves at 2:50 pm)
(One tour every hour on the hour)
Language
Japanese
Reservation
Required
Reserve your place on a tour by calling +81-551-35-2211
Reservations are accepted up to the day before the tour in question.
Other conditions
- If over 10 people would like to attend the guided tour, please make a reservation by phone by the day before the tour.
- Sometime we cannot receive advance reservations. Please contact us by phone about details.
- To ensure responsible drinking, we do not allow guests to attend multiple tour programs which include alcoholic tasting on the same day.
- Guests are responsible for the cost of transportation.
- There are times when the production line is not in operation. During these times we will introduce the relevant information to you through films.
Contact