Industrial Tourism in Japan
Ryugetsu 'Tokachi Sweetpia Garden'
"Snacks that help strengthen family ties and establish heart-to-heart relationships between people": Our entire staff makes a concerted effort to realize this corporate belief every day, understanding that our snacks are a medium for strengthening family ties, satisfying our customers and making our staff happier. We keep striving to offer safe and delicious sweets at reasonable prices, so that more people can buy our snacks to eat at home. Ryugetsu Co., Ltd. received the 1st Excellent Company Award from the Governor of Hokkaido in 2005.

We use ingredients produced in Tokachi or other parts of Hokkaido as much as possible and manufacture safe products at factories that adhere to HACCP in 'Tokachi Sweetpia Garden'. You can see the manufacturing process of Baumkuchen 'Sanpouroku' at this facility. Many of the pastry chefs working with us have received prizes at the annual Japan Cake Show.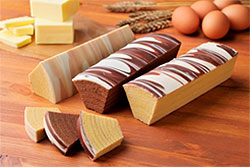 Access
Ryugetsu 'Tokachi Sweetpia Garden'
〒080-0342 Nishi18-2 Kita9 Otofuke-cho Hokkaido Japan
15minutes by car from JR Obihiro Station
Admission
Admission fee
Free
Working days and hours
- Sumer Schedule
[Factory tour] 9:00-16:00
[Shop] 9:00-18:00
[Cafe] 9:00-17:00

- Winter Schedule
[Shop] 9:30-17:30
[Cafe] 9:30-16:30
[Factory tour] 9:30-16:00
Closings
Open Throughout the year
Visitor capacity
No Restriction
Time required for a tour
About 15 minutes, No guide staff.
Language
Japanese only
Reservation
No Required
Other conditions
- An interpreter must be arranged by the visitor.
- Photography is allowed in limited areas.
- Japanese leaflet Only.
- The production line is almost closed on Wednesdays and Sundays. But you can see the inside of the facility.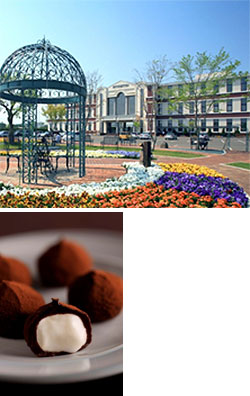 Contact
Tel: 0155-32-3366 (Japanese only)