Industrial Tourism in Japan
Oya Historical Museum
This museum was opened in 1979 to show the history and mining operations of Oya stone. The museum is situated in an unusual setting of carved hills, whose arches and holes were formed in the search for the finest quality stone. The modern museum building contains various items related to Oya, the stone quarries, and their history. Visitors are allowed to go underground into an immense mined area.
This museum introduces the history of mining Ohya stone. The original quarry site underground is approximately 20,000m2 in area and 60m at the deepest point. The temperature here is constant at 8℃ throughout the year. The powerful, magical atmosphere here is truly overwhelming.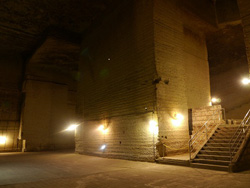 Access
Oya Historical Museum
Oya machi, 909 Utsunomiya-shi, Tochigi, Japan 321-0345
<Access>
By car: 30 minutes from JR Utsunomiya Station

<Parking>
Parking lot (for passenger cars): Available (on/near the facility premises)
Parking fee: Free
Parking of tour buses:Possible (large-size/medium-size) (on/near the facility premises)
Tour bus parking fee: Free
Admission
Admission fee
Adults: \700-
Children: \350-
Working days and hours
9:30 to 17:00
Closings
New Year holiday.
Please contact us for more information about non-business days.
Visitor capacity
-
Time required for a tour
Approximately 30 to 40 minutes
Language
Japanese
English (guide plates,displays,brochure)
Reservation
No Required
Tel: +81 (0) 28-652-1232
Fax: +81 (0)858 37 6475
Other conditions
Reservations recommended for groups.

Contact
Tel: +81 (0)858-37-5389
Fax: +81 (0) 28-652-4851