Industrial Tourism in Japan
OKOSHI-KATAGAMI
Product name: Ise Katagami (manually carved patterns and designs)
Suggested use: for art piece, graphic design source
Since its establishment in 1924, our company has developed various designs. We have produced innumerable, valuable paper patterns, observing the tradition of Japanese cultural heritage. Because the patterns and designs are of primary importance for Ise Katagami, we are advancing the branding of OKOSHI-KATAGAMI. The characteristic of OKOSHI-KATAGAMI worthy of special mention is its three-dimensional expression of patterns utilizing shadows and sunshine, despite its two-dimensional, monotone constraints. Designs with a delicate and soft touch generated by a manual paper carving method express a world totally different from that of oil painting, India-ink painting or woodblock print. In addition to dying Japanese Kimono, we are exploring diverse uses of OKOSHI-KATAGAMI for architecture, interior, clothing and accessories, in order to expand our sales channels. In January 2010, we exhibited OKOSHI-KATAGAMI at Maison & Objet held in Paris. It was highly valued by architects and interior designers in Europe. Also in 2011 and 2012, OKOSHI-KATAGAMI was displayed at the Premiere Vision INDIGO in Paris. Our patterns and figures were sold at these exhibition sites and have contributed to the transmission of fashion and mode to the world. As a supplier of OKOSHI-KATAGAMI, we support the development of products with potential and high value using our patterns, and also offer products carved out carefully by hand.
Access
OKOSHI-KATAGAMI Inc.
27-25 Ejima-honmachi, Suzuka 510-0234
Kintetsu Shiroko station: 5 minutes walk (40 minutes from Nagoya, 2 hours from Osaka and Kyoto by Kintetsu Rapid Express)
Admission
Working days and hours
Monday to Saturday between 9AM and 5PM
Closings
Sunday, public holidays, 29st Dec. to 5rd Jan.
Visitor capacity
1 to 10
Time required for a tour
1 hour
Language
Japanese ,English a little bit
Reservation
Required
Please e-mail to info@okoshi-katagami.com
Other conditions
An interpretor must be arranged by the visitor.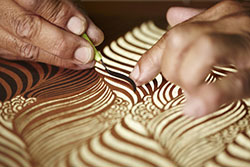 Contact
Tel: 059-386-0229
E-mail: info@okoshi-katagami.com