Industrial Tourism in Japan
OIGEN SHOWROOM(SHOP)
Nambu cast ironware is one of the Japanese traditional crafts.
There are many Nanbu cast ironware products. Many are kitchen items, such as kettles, pots, and pans; others include wind chimes.
Please come and visit our showroom and feel the touch of each items.
Experienced clerk will give you advices how to select and deal with Nanbu cast ironware.
Please feel free to ask anything that you want to kyow about Nanbu cast ironware.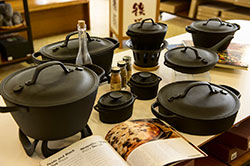 Access
OIGEN SHOWROOM(SHOP)
Horinouchi Hada-cho,Mizusawa-ku,Oshu-City,Iwate Prefecture,023-0132 Japan
*From Tokyo Station:
[Rail]2h45min to Mizusawa Esashi Station by JR Tohoku Shinkansen

*From Mizusawa Esashi Station:
[Walk]10min walk

*From Mizusawa I.C.(Tohoku Highway)
[Car]15min drive
Admission
Admission fee
Free
Working days and hours
Monday to Friday 9:00 - 17:00 / Weekends & National Holidays 10:00 - 16:00
Closings
Prior confirmation is recommended (Tel: 0197-24-2411)
Language
Japanese only
Reservation
No Required
Please e-mail to inquiry@oigen.jp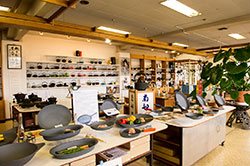 Contact
Tel: +81-197-24-2411
E-mail: inquiry@oigen.jp