Industrial Tourism in Japan
Noritake Garden
Noritake's history began in 1904 with a single dinner plate. Since then, Noritake has continued to make elegant and dynamic tableware in the same city under the same principles. In commemorating the 100th anniversary of Noritake Co., Ltd., Noritake Garden was opened on October 5, 2001 on the premises of Noritake's headquarters, the very birthplace of modern pottery.
The facility, located in central Nagoya, boasts a land area of 48,000 square meters. It is divided into three zones: the Culture Zone, where you can discover culture, the Commercial Zone, a place to enjoy daily living, and the Historical Zone, a place to experience history, all of which are surrounded by lush greenery. Through this facility, we hope to contribute to the promotion of the tourism industry and the natural environment, as well as attempt to contribute to the local community and concretize our gratitude.
We have up until now and will continue to focus broadly on lifestyle culture and the creation of a truly affluent consumer lifestyle. We hope you will continue to take pleasure in the essence of Noritake's craftsmanship, traditions, and arts fostered here and savor the excitement of new creations to your hearts desire.
Access
Noritake Garden
1-36, Noritake-Shinmachi, 3-chome, Nishi-ku, Nagoya 451-8501, JAPAN
http://www.noritake.co.jp/eng/mori/access/

Admission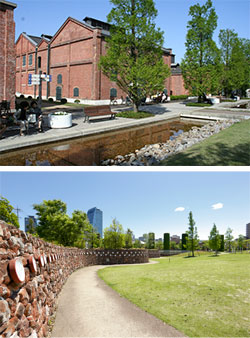 Contact