Industrial Tourism in Japan
Nikko Yuba Seizo
Nikko "yuba" (bean curd) has been an essential food for Shinto and Buddhist priests of Toshogu and other temples and shrines in Nikko, especially when they go through harsh ascetic training. Today, "yuba" enjoys popularity among many, young and old alike, as a health food.
We carefully choose the best soy, which we process into soy juice. Out of it, we carefully draw out each piece of curd manually. The raw curd, produced first thing in the morning, is a hot item - every customer that has sampled it buys it, for sure.
Also, our kiosk offers "make it yourself" trials for drawing curd out of soy juice, and many tourists join in these trials every year. They say these trials are fun experiences in Nikko that form everlasting memories.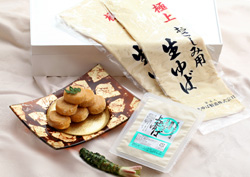 Access
Nikko Yuba Seizo Co., Ltd.
3589, Akahori, Inokura, Nikko-shi, Tochigi Prefecture 321-2344
By car: 5 minutes' drive from the Osawa Interchange
By train: 10 to 15 minute taxi ride from Shimotsuke-Osawa Station
Admission
Admission fee
Free
Working days and hours
9:00-17:00
Closings
Obon (lantern festival), New Year's & national holidays
Visitor capacity
50
Time required for a tour
30 min
Language
Japanese
Chinese (pamphlet only)
Reservation
Required
Tel: 0288-26-4890, toll free (only domestic) 0120-26-4890
E-mail: niizuma@nikkoyuba.net
Fax: 0288-26-4891
Other conditions
Kiosk: 9:00 am to 5:00 pm (" Make it yourself" trials are available 10:00 am to 3:00 pm.)
We may be closed during the Obon summer holidays, during year-end and New Year holidays, and on national holidays.
Please make reservations by phone or fax, at least two days before the day you hope to try making bean curd.
Contact
Tel: 0288-26-4890, toll free (only domestic) 0120-26-4890
E-mail: niizuma@nikkoyuba.net
Fax: 0288-26-4891