Industrial Tourism in Japan
NIKKA WHISKY Miyagikyo Distilleries
In the hopes of introducing more people to the wonders of whisky, Miyagikyo Distillery offers tours of its facility to interested members of the public. We are sure you will enjoy this opportunity to see how Nikka Whisky is created in this beautiful natural setting.
On the guided tour of the Miyagikyo distillery, a Japanese-speaking Nikka representative will kindly introduce you to the whisky manufacturing process, the history of Nikka Whisky and more.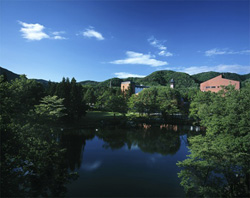 Access
NIKKA WHISKY Miyagikyo Distilleries
Miyagiken Sendaishi Aoba Nikka 1 Japan
Car/ 25 minutes toward Yamagata from Tohoku Expressway Sendai Miyagi IC on Route 48
Free shuttle bus/Timetable
From Sakunami station to our factory
8:59 / 9:47 / 10:53 / 12:01 / 12:59 / 13:43 / 14:42 / *15:45
*You can't have a look around our factory, if you take 15:45 bus.
The shuttle bus waits at Sakunami station on JR to the timetable of the line
From our factory to Sakunami station
9:20 / 10:00 / 11:10 / 12:20 / 13:20 / 14:20 / 15:20 / 16:10 / 16:40
Free suttle bus is aveirable on Saturdays, Sundays and national holidays [except for the year-end and New Year holidays]
Depending on the operation situation of JR Senzan line, the time of the bus would be changed.
Train/ 30 minutes from JR Sendai station to Sakunami station on JR Senzan line
City bus/60 minutes from Sendai station to Nikka-bashi toward Sakunami hot spring
Admission
Admission fee
Free
Working days and hours
9:00 a.m. to 11:30 a.m., and 12:30 p.m. to 3:30 p.m.
Tours are conducted every 15 to 20 minutes.
Closings
from Dec 24 to Jan 7
Visitor capacity
Please contact us in advance.
Time required for a tour
60min
Language
English, Chinese, Korean( pamphlet)
Reservation
Required
Tel: +81-22-395-2865
Fax: +81-395-2305
Other conditions

You can taste three brands of our products.Tasting is limited to one glass per each brand.
The law prohibits driving under the influence of alcohol. Visitors arriving by car or bicycle, minors, and pregnant or nursing mothers are asked to refrain from drinking alcoholic beverages. Soft drinks will be available.)
Some portions of the tours are outdoor. On rainy days, please bring your own rain gear.
A limited number of wheelchairs are available for use (free of charge). Please call/fax in advance to reserve one if required.
Because this is a factory that produces beverages for consumption, for sanitary reasons we ask that you refrain from bringing in food or pets. However, assistance dogs accompanying disabled persons are permitted.
Smoking is prohibited on the distillery grounds, except in designated areas.
To reduce the burden on the environment, visitors arriving by car are requested to refrain from idling their engines and turn them off while parked.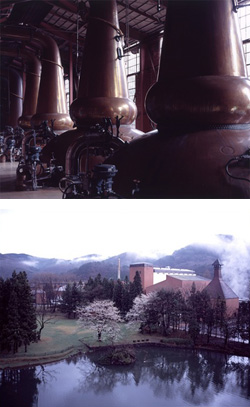 Contact