Industrial Tourism in Japan
The Momofuku Ando Instant Ramen Museum
The world's first instant noodle product, "Chicken Ramen," was invented by Momofuku Ando in August, 1958.
"Space Ram" was made as the instant noodles that traveled on the space shuttle Discovery with the Japanese astronaut in July 2005.
Visitors can make a "cup noodle" in the world's first cup noodle. They can also choose a soup, a cup design, and a favorite ingredient to make it. They can make their original cup noodle and take it away.
Access
The Momofuku Ando Instant Ramen Museum
8-25, Masumi-cho, Ikeda-shi, Osaka, Japan
Accessing Ikeda Station on the Hankyu Takarazuka line.
*Walk from Masumicho Homen Exit for approximately a 5 min.
*Go straight along 'Men Road'
※It takes about 20 min from Umeda station to Ikeda station by train.
Admission
Admission fee
Admission is free (The experience of making a cup noodle is charged. The fee of making a my cup noodle is 300JPY per cup.)
Working days and hours
9:30-16:00 (Final acceptace of visiting the factory of 'My Cup Noodle' is at 15:30.)
Visitors can enjoy the tour without reservations. It may be closed earlier in the case of a crowded situation.
Closings
Closed: Tuesday (Next day is closed in the case of a holiday), year-end and new year
Language
Japanese, English and Chinese(Only brochure)
Reservation
Required
By telephone 81(072)751-0825
Other conditions
No reservations are required for entering "The Momofuku Ando Instant Ramen Museum" and "my cup noodle factory."
Note: Please make a reservation for "Chicken Ramen Factory Tour" and group tour, when the size of group is over 21 persons, in advance.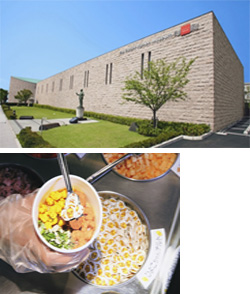 Contact