Industrial Tourism in Japan
Mizuho Brush
Mizuho Brush Co. has built its business by manufacturing and developing makeup, water color, nail design, and various other brushes. We create our brushes completely, from the selecting and dressing of the hair, assembling, inspection. and repairing, to delivery of the finished product.
Kumano brush making has more than 180 years of history and experience. Our craft is based on the original "Kumano Calligraphy" brush making expertise.
In 2010, we celebrated the 30th anniversary of Mizuho Brush Company. This milestone underscores the success of our past, and our potential for the future.
These brushes are beautiful, with a traditional commitment to quality. Kumano brushes are the standard of excellence for professionals around the world. They are beautifully and expertly designed for functionality, first-rate Japanese craftsmanship, and are an excellent value.
"Mizuho makeup brushes" are the ideal gift for that important person or special someone in your life who deserves the best. Mizuho Brush Co., Ltd. established a new brand named "Mizuho Brush" in February 2008. We offer to you a refreshing new lifestyle concept through our high-quality products. We, Mizuho Brush, continuously and diligently seek ways to improve our products in both new and existing markets.
As always, Mizuho Brush Co. Ltd. strives to meet your expectations for high quality brushes.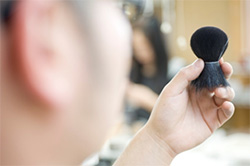 Access
Mizuho Brush Company Limited
2-7-35, Kumano town, Aki-gun, Hiroshima, Japan, 731-4213
15 mins from Yano Station of JR Kure line or 40 mins from Hiroshima City by Car.
Admission
Working days and hours
Fr 9 to 17:30 on weekdays and 1st & 3rd Saturday.
Visitor capacity
10-15 persons
Time required for a tour
1hour
Language
Japanese, English
Reservation
Required
By Email
Contact
Tel: +81-82-8540432
E-mail: info@mizuho-brush.com