Industrial Tourism in Japan
Matsuai Food
Matsuai Food, Inc. has been producing soy sauce, miso, vinegar and other seasonings since 1827 in Shiranui Uki, Kumamoto, which is blessed with mild climate and water of good quality.
We push forward with our work of brewing every day thinking of the importance of the relationship between nature and health. With the proverb "Ishoku-dogen (A balanced diet leads to a healthy body)" in mind, we aim to produce safe, healthy and delicious food made from local products.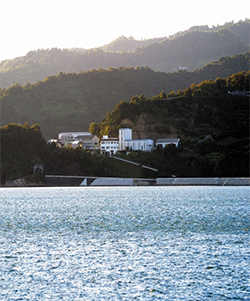 Access
Matsuai Food, Inc.
188 Matsuai, Shiranui-machi, Uki-shi, Kumamoto JAPAN, 869-3472
You will find the headquarters and shop of Matsuai Food, Inc. along Japan National Route 266 passing through Matsubase to Amakusa and Misumi. A signboard on a white wall leads to our place.
Admission
Admission fee
Free
Working days and hours
Monday to Friday between 9:00am and 5:00pm
Closings
New Year's holiday
Visitor capacity
1 to 20
Time required for a tour
30 minutes
Language
Japanese (English and Chinese, depending on available guides)
Reservation
Required
Please email us at info@matsuai.co.jp
Other conditions
In some cases, an interpreter must be arranged by the visitor.
Guided tours are available.
Photos are allowed in most of our facilities.
Dress code: Business casual.
Contact
Tel: 0964-42-2212
E-mail: info@matsuai.co.jp