Industrial Tourism in Japan
KOMATSU ELECTRIC INDUSTRY
Komatsu Electric Industry keeps to act based on our mission, " We should make the global society where people can live continuously and happily.",through our two main business units: the sheet shutter "happy gate monban system" and the total water administration system "YAKUMO SUISHIN Network".
We won "the Medium and Small Business Research Center Prize" and "the Highest Prize of New Business Grand-Prix" by developing the sheet shutter MONBAN which contributes to preventing global warming and creating a new market.
In 2012, happy gate monban system won "the Japanese Grand-prix Prize for an excellent work". YAKUMO SUISHIN won "the Selection as Remarkable Invention" of the Science and Technology Agency of the Japanese Government.
We set up a non profit institute, Human Nature and Science Research Institute(HNS). HNS tries to create the model of permanent peace of obtaining reliance and respect from the world and continuing to be satisfied with dignified desire as human, through environment and health business.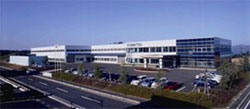 Access
KOMATSU ELECTRIC INDUSTRY CO.,LTD.
Matsue-Konan Technopark, 735-188 Nogifukutomi-cho, Matsue-city, Shimane pref. 690-0046Japan
Admission
Admission fee
Free
Working days and hours
Monday to Friday between 9am and 5pm. Saturday acceptable during Dicember to March.
Closings
Sunday, public holidays
Visitor capacity
1 to 40
Time required for a tour
a) 1 hour tour with the products explanation, and trial of interactive exhibit of our products.
b) 2 hour course. 1hour tour(a) + technical discussion with staff.
Language
Regularly in Japanese. We try in English, but prefer to accompany an interpreter.
Reservation
Required
Please e-mail to webmaster@komatsuelec.co.jp
Other conditions
Thank you for your interest to Komatsu Electric industry. We are happy to communicate with all visitors. Please feel free to ask any questions and try our award winning products at our exhibition hall. You also can enjoy the view of lake Shinji from our office.
Contact
Tel: 0852-32-3636
E-mail: webmaster@komatsuelec.co.jp