Industrial Tourism in Japan
KITAKYUSHU ENVIRONMENT MUSEUM
The Higashida area in Yahata-Higashi ward of Kitakyushu City is called "Smart Community."
Due to factors including the establishment of environmental facilities and the introduction of a range of new energy sources, this area already emits 30% less CO2 than other areas in the city.
By means of the establishment and operation of a customer energy management system called Smart Community Center or the Community "Setsuden-sho," Higashida area aims to establish mechanisms for citizens and companies to think about and participate in the process of energy distribution. It's worth visiting if you would like to learn about the model case of the sustainable, environmentally friendly society.
In the middle of Higashida area, there is "The Kitakyushu Environment Museum."
The Kitakyushu Environment Museum was established in 2009 with the goal of telling the story of Kitakyushu's struggle with pollution on its way to becoming an environmental capital city.
As it was during the time of Kitakyushu's environmental troubles, a connection point for exchange between students, citizens, local government, industry, and so on is needed in order to coordinate roles for the implementation of a sustainable and environmentally sound society. Therefore, the Museum seeks to be a "Environmental Education exchange point for citizens" so that Kitakyushu City can continue its journey to becoming an Environmental World Capital City.
Access
KITAKYUSHU ENVIRONMENT MUSEUM
2-2-6 Higashida Yahata Higashi-ku Kitakyushu City, 805-0071
Just off the Edamitsu exit of Kitakyushu urban expressway.
5 min on foot from the JR Space World station.
Admission
Admission fee
Free
Working days and hours
AM9:00~PM5:00
Closings
Every Monday and January 1
Visitor capacity
1 to 30
Time required for a tour
1 hour
Language
Japanese and English
Reservation
Required
By Telephone: 093-663-6751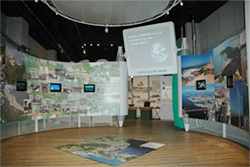 Contact
Tel: 093-663-6751
E-mail: info@eco-museum.com