Industrial Tourism in Japan
KIRIN Sendai Factory
We started to make beer in Odawara Sendai in 1923 and moved to Minato Miyagino Sendai in 1983.
We've made beer for more than 90 years beloved by the people in Miyagi.
In Factory visit, our guides introduce the secrets of the deliciousness of the first-press brewing beer and many generations, from children to adult, come to our factory.
You can enjoy delicious food in Miyagi and delicious beer in the beer restaurant, "KIRIN beer port Sendai", on the side of our factory.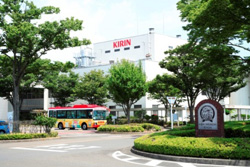 Access
KIRIN Sendai Factory
2-2-1 Minato, Miyagino-ku, Sendai, Miyagi 983-0001, Japan
Car/40 minutes from Sendai station and 5 minutes from Sendai port IC
Train/Free shuttle bus from Tagajo station on JR Senseki line
Timetable:
From Tagajo station to KIRIN beer factory 9:35, 10:35, 11:35, 12:35, 13:35, 14:35, 15:35, 16:35, 17:25
From KIRIN beer factory to Tagajo station 10:15, 11:15, 12:15, 13:15, 14:15, 15:15, 16:15, 17:00
Admission
Admission fee
Free
Working days and hours
9:00 - 15:30
Closings
Monday (in the case of national holidays, closed on the following day)
Visitor capacity
Maximum 200. Please contact us for more information.
Time required for a tour
70 min
Language
Japanese only
(There are English, Chinese, Korean pamphlets.)
Reservation
Required
TEL: 022-254-2992
URL: https://kirinbrewery1.secure.force.com/WebCalender?p=S
Contact