Industrial Tourism in Japan
Yamanashi Jewelry Museum
Yamanashi is now home to an industrial cluster that includes sculpture using materials such as rock crystal and agate, the polishing of gemstones for use in jewelry, working precious metals for creating jewelry, and companies that distribute jewelry throughout Japan and worldwide. The aims of this museum are to preserve the history and continue the tradition of jewelry making in Yamanashi and, by exhibiting examples of the exquisite jewelry created in Yamanashi and the extraordinary craft techniques used to produce them, to enhance awareness of Yamanashi jewelry and jewelry making in Yamanashi.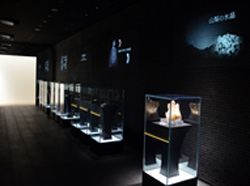 Access
Yamanashi Jewelry Museum (Yamanashi Jewelry Museum is attached to the Institute of Gemology and Jewelry Art Yamanashi Prefectural government)
Yamanashi Plaza, Disaster Prevention Annex 1 floor 1-6-1 Marunouchi, Kofu City, Yamanashi 400-0031, Japan
[Access]
*By train
7 minute walk from South Exit of Kofu Station, JR Chuo Line.
*By express bus
- From Tokyo (Shinjuku - Ryuo/Kofu)
Shinjuku Station - about 2 hours 10 min. - Kofu Station
- From Tokyo (Shinjuku - Ryuo/Kofu)
Nagoya Station - about 4hours - Kofu Station
- From Osaka (Kyoto/Osaka - Ryuo /Kofu)
Osaka (Abenohashi) Station - about 8hours 40 min. - Kofu Station
*By Car
From Kofu-Showa I.C. on Chuo Expressway, about 25 min. to the Museum.
Admission
Admission fee
Free
Working days and hours
10:00-18:00 (Admission ends 30 minutes before closing.)
Closings
Tuesdays (in the case of national holidays, closed on the following day) During the exhibition preparation periods, and the year-end through the New Year's holidays
Visitor capacity
1 - 3
Time required for a tour
30 - 60 min
Language
Japanese only
Reservation
Required
Required if you visit as a group, or if you attend a jewelry class ( Japanese only).
Group: http://www.pref.yamanashi.jp/yjm/riyo/dantaiyoyaku.html
School tour: http://www.pref.yamanashi.jp/yjm/riyo/gakkoyoyaku.html
Workshop-based tour: http://www.pref.yamanashi.jp/yjm/taiken/yoyaku_form.html

Not Required required for individuals.
Other conditions
[Museum Rules rules -To make all our visitors' museum visits enjoyable, please obey the following rules ]
Do not touch the works on display, their frames, or the cases.
Luggage and umbrellas are not allowed in the museum. You may carry only your personal valuables.
Use of fountain pens or ballpoint pens is strictly forbidden. Please use a pencil instead. You may borrow a pencil at the reception desk or from one of the staff.
Please refrain from using mobile phones.
Do not run or shout while in the museum.
Taking photographs or videos or making sketches is not permitted.
Eating (including candies and chewing gum) and drinking inside the museum are strictly forbidden.
Stow any beverage bottles in your bag and leave it at the reception desk.
Smoking is prohibited inside the museum.
Pets may not be brought into the museum. An exception is made for service dogs assisting visitors with special needs (seeing-eye dogs, hearing dogs, etc.)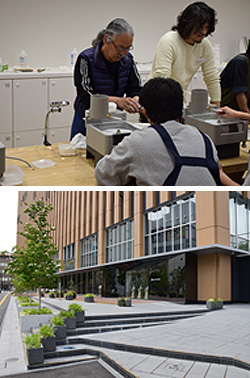 Contact