Industrial Tourism in Japan
Imayo-Tsukasa Sake Brewery
"Since 1767. We are SAKE brewery that still uses the traditional way of brewing SAKE. We strictly only use the basic ingredients to brew SAKE without any artificial alcohol and ingredients (100% pure rice SAKE).
Our brewery is open for public throughout the year to let you observe the facilities and tools. Still more, we guide you to learn SAKE and its history. At our brewery, please feel the old time atmosphere that is a treasure in the modern times. Free tasting is also offered."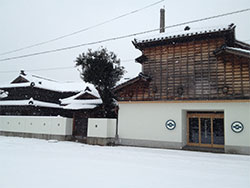 Access
Imayo-Tsukasa Sake Brewery
1-1 Kagamigaoka, Chuo-ku, Niigata City, Niigata 950-0074 JAPAN
17 minutes walk from JR Niigata Station
5 minutes drive from JR Niigata Station
20 minutes drive from Niigata Airport
10minutes drive from Sado-Kisen Ferry Terminal
5 minutes drive from Shichikuyama inter change
15 minutes drive from Niigata-Nishi(west) tollgate
Admission
Admission fee
Free
Working days and hours
Everyday 9:00 - 17:00
Closings
Year-end and New year
Visitor capacity
1 to 30
Time required for a tour
40mins
Language
Japanese, English
Reservation
Required
Please make a reservation by e-mail( junmai@imayotsukasa.com ) or telephone(025-245-3231).
Other conditions

English speaking guide is available.
Please refrain from using perfume at brewery between October to March.
Contact
Tel: 025-245-3231
E-mail: junmai@imayotsukasa.com