Industrial Tourism in Japan
IKEDAYA YASUBEI SHOUTEN
Our product "Hangontan" is a representative medicine of Toyama developed in the Edo Era. Our shop locates in the center of Toyama City, and many tourists visit us as a popular sightseeing spot. Visitors are especially recommended to see and experience the process of producing medicine by an old-time device.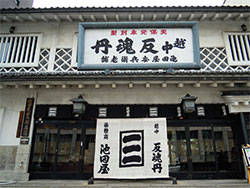 Access
IKEDAYA YASUBEI SHOUTEN Co., Ltd.
1-3-5 Tsutsumichodori, Toyama City, Toyama, Japan
By train
*3 min walk from Nishimachi station (Toyama Local Railway)
Admission
Admission fee
Free
Working days and hours
Everyday between 9:00am and 6:00pm
Closings
29st Dec. to 3rd Jan.
Visitor capacity
1 to 40
Time required for a tour
30 min
Language
Japanese only
Reservation
No Required
telephone, fax
Other conditions
An interpreter must be arranged by the visitor.
Photography is allowed.
Contact
Tel: +81-76-425-1871, Fax: +81-76-491-1698
E-mail: hangontan@hangontan.co.jp