Industrial Tourism in Japan
Hakutsuru Sake Brewery Museum
[1st Floor]
Various sake production implements are on display, including a huge vat made of Japanese cedar once used for fermentation and other procedures. In the sake-tasting area, visitors can enjoy freshly pressed, unpasteurized sake that cannot be found anywhere else but at this sake brewery museum. Our store sells not only Hakutsuru Sake products, but many original museum goods as well. The jelly sake is especially popular.
[2nd Floor]
The various stages of making sake are depicted in detail, with displays of the cooling apparatus, koji culture room, and many other types of equipment. Traditional methods are explained with actual tools and video. The old brewhouse was converted into the museum itself, lending a highly realistic atmosphere to the display of these early sake brewing methods.
Access
Hakutsuru Sake Brewery Museum
4-5-5, Sumiyoshiminami-machi Higashinada-ku, Kobe 658-0041
- Get off at Hanshin Sumiyoshi Station (about a five-minute wake)
- Get off at JR Sumiyoshi Station (about a fifteen-minute wake)
- Get off at Hankyu Mikage Station (about a ten-minute drive)
<Parking>
Parking (passenger car): Available (facility)
Parking fee: Not required
Bus parking: Available (large ) (facility)
Bus parking fee: Not required
Admission
Admission fee
Free
Working days and hours
9:30 am to 4:30 pm
(However, visitors will not be allowed in after 4:00 pm, and reservations need to be made for groups.)
Closings
New Year Holiday period, summer holidays
Visitor capacity
Maximum of 100 persons. English, Chinese, & Korean available. Reservation necessary.
Time required for a tour
1 hour
Language
Japanese
English (signage, brochure, video)
Chinese, Korean (brochure, video)
Reservation
Required
TEL: 81-78-822-8907
Website: http://www.hakutsuru.co.jp/english/culture/museum.html
Other conditions
Englsih available on small video screens inside the museum.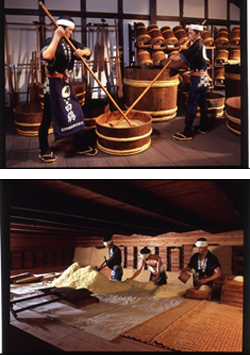 Contact