Industrial Tourism in Japan
The Entrepreneurial Museum of Challenge and Innovation
Aiming to develop the next generation of human resource, the Osaka Chamber of Commerce and Industry established the museum. Since the early days, Osaka has been called "the city of merchants". Merchants came to Osaka from all over Japan to start businesses and they created not only new products but also such as technology, business models and services. Then they contributed to economic development and the improvement of our quality of life. We exhibit bright achievements of the 105 entrepreneurs who succeeded in Osaka since 1868, including the founder of Panasonic, Konosuke Matsushita and the founder of Nissin Food Products, Momofuku Ando. We can study their ideas, attitudes and towards methods here.
Exhibitions and audio guides are provided in Japanese, English, Chinese and Korean.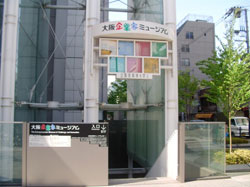 Access
The Entrepreneurial Museum of Challenge and Innovation
B1 Business Innovation Center Osaka, 1-4-5 Honmachi, Chuo-ku, Osaka
5-minite walk from Sakaisuji-Honmachi Station (K15) of Sakaisuji Subway Line (Exit No. 1 and No. 12)
Parking

parking at Business Innovation Center Osaka
Osaka Castle Park Jonan Bus Parking
Admission
Admission fee
Adults: 300 yen
*Group discount (over 10 people adult group): 200 yen
Students: 100 yen
12 years and under: Free (must be accompanied by parents)
Over 65 years : 200 yen
* Free guided tour is provided by appointment (in principle, for 10 or more people, in Japanese only)
* Audio guide is available in Japanese, English, Chinese and Korean for up to 20 sets.
Working days and hours
10:00 - 17:00 (admission until 16:30), on Wednesdays: 10:00 - 20:00 (admission until 19:30)
Closings
Sundays, Mondays, National holidays and Aug 14-17, Dec 26-Jan 4
Visitor capacity
Maximum 160 people
Time required for a tour
90 minutes for standard tour (Time schedule can be arranged by your request.)
Language
Japanese, English, Chinese and Korean
Reservation
Please e-mail us following information to museum@osaka.cci.or.jp
1. Group name and numbers 2.Person in charge 3.Date and time of visit (start and end time) 4.Your address 5.Your phone number 6.Your phone number in Japan 7. Your e-mail address 8. Request about presentation (if any) 9. Purpose of visit

Other conditions
Please make your own arrangements for an interpreter, if necessary.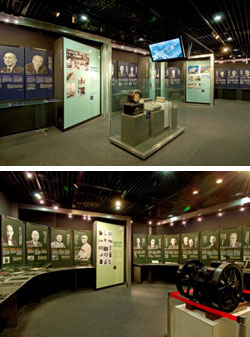 Contact
Tel: 06-4964-7601(Japanese only)
E-mail: museum@osaka.cci.or.jp