Industrial Tourism in Japan
the East Nagasaki Sewage Treatment Plant
The environmental equipment "METHASAURUS" was installed at the East Nagasaki Sewage Treatment Plant (the total amount of influent sewage water : 10,000㎥/day) in January 2013. It is currently fully operational after the test run. At the plant, biogas is recovered from sewage sludge and recycled as operational energy. We also plan to dehydrate the sludge and reuse it as a powerful calorific fuel, or as phosphorus-rich fertilizers. In addition, the plant has realized "Zero greenhouse gas emissions" as it reduces CO2 emissions substantially and harnesses the final dehydrated residue.
Access
the East Nagasaki Sewage Treatment Plant / Mitsubishi Nagasaki Machinery Mfg.Co.,Ltd.
279-46, Tanaka-machi, Nagasaki-city, Nagasaki 851-0134 Japan
*about 15 min. by car from Nagasaki Susukiduka I.C.
*about 50 min. by limousine to Nagasaki station from Nagasaki Airport
*about 30 min. by Kenei bus from Nagasaki station
Admission
Admission fee
Free
Working days and hours
Monday to Friday 9:30a.m. to 12:00 noon and 1:00p.m. to 4:30p.m.
Closings
Saturday, Sunday, public holidays
Visitor capacity
1 to 20
Time required for a tour
approx. 60 min.
Language
Japanese, English, Chinese
Reservation
Required
Please e-mail to the mail address mentioned below, and fill in the followings.
1.name (company name and/or individual name)
2.person in charge of application
3.contact information
4.visit preferred date(an optional extra day)
5.the number of visitors
6.purpose of the visit(inspection, workshop etc.)
Other conditions
- Please set an optional extra day, a visit may be difficult because of weather conditions.
- Please apply by 10 days before visiting.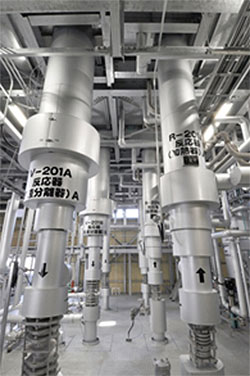 Contact
Tel: 095-865-4544(The East Nagasaki Sewage Treatment Plant)
Tel: 095-871-6102(Mitsubishi Nagasaki Machinery)
E-mail: webmaster@mnm.co.jp