Industrial Tourism in Japan
Aomori Prefecture Tourist Center
- The Aspam building is a tourism products center in the shape of a triangle, has 15 floors, and is 76 meters in height. From the 360 degree observation deck, 51 meters above ground, you can see Mt. Hakkoda, Mutsu Bay, the Shimokita Peninsula, and Aomori City.

- Our panoramic film theater introduces you to the beauty of Towada-Oirase, Shirakami's nature, and the Nebuta Festival with nine large screens.
- We have a noodle shop on the 1st floor, a local cuisine restaurant on the 10th floor, and a western food restaurant on the 14th floor where you can enjoy a delicious meal. On the 2nd floor, there is an exhibition corner that introduces vitality of Aomori Prefecture and a local craft demonstration corner. There are souvenir shops where you can purchase many products of Aomori Prefecture in the 1st floor.
- The parking lot has a capacity for 150 vehicles and 12 tourist buses.
Access
ASPAM, Aomori Prefecture Tourist Center (Aomori Prefectural Tourism Federation)
Yasukata 1-1-40, Aomori City, Aomori
About an 8 min. walk from Aomori train station, about 15 min. from Aomori Chuo IC exit on the Tohoku Expressway, about 40 min. by car from Aomori Airport
Admission
Admission fee
Free.
Entrance fee required for the observation deck and theater.
Working days and hours
Building opens from 9:00 am to 10:00 pm. Shops, observation deck and theater open from 9:00 am to 6:00 pm
Closings
New Year's Eve, Monday through Wednesday of the fourth week of January (Jan 20th to 22nd, 2014)
Visitor capacity
200
Time required for a tour
About an hour to an hour and half
Language
Japanese
Reservation
Required
Phone call, fax
Fax # 017-735-2067
Other conditions
Tours are only available in Japanese. An entrance fee is required for the observation deck and theater.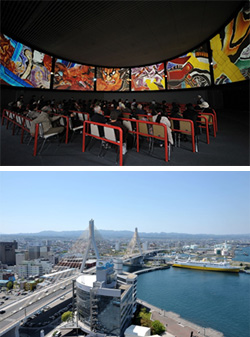 Contact